Gilmore Edward Richter III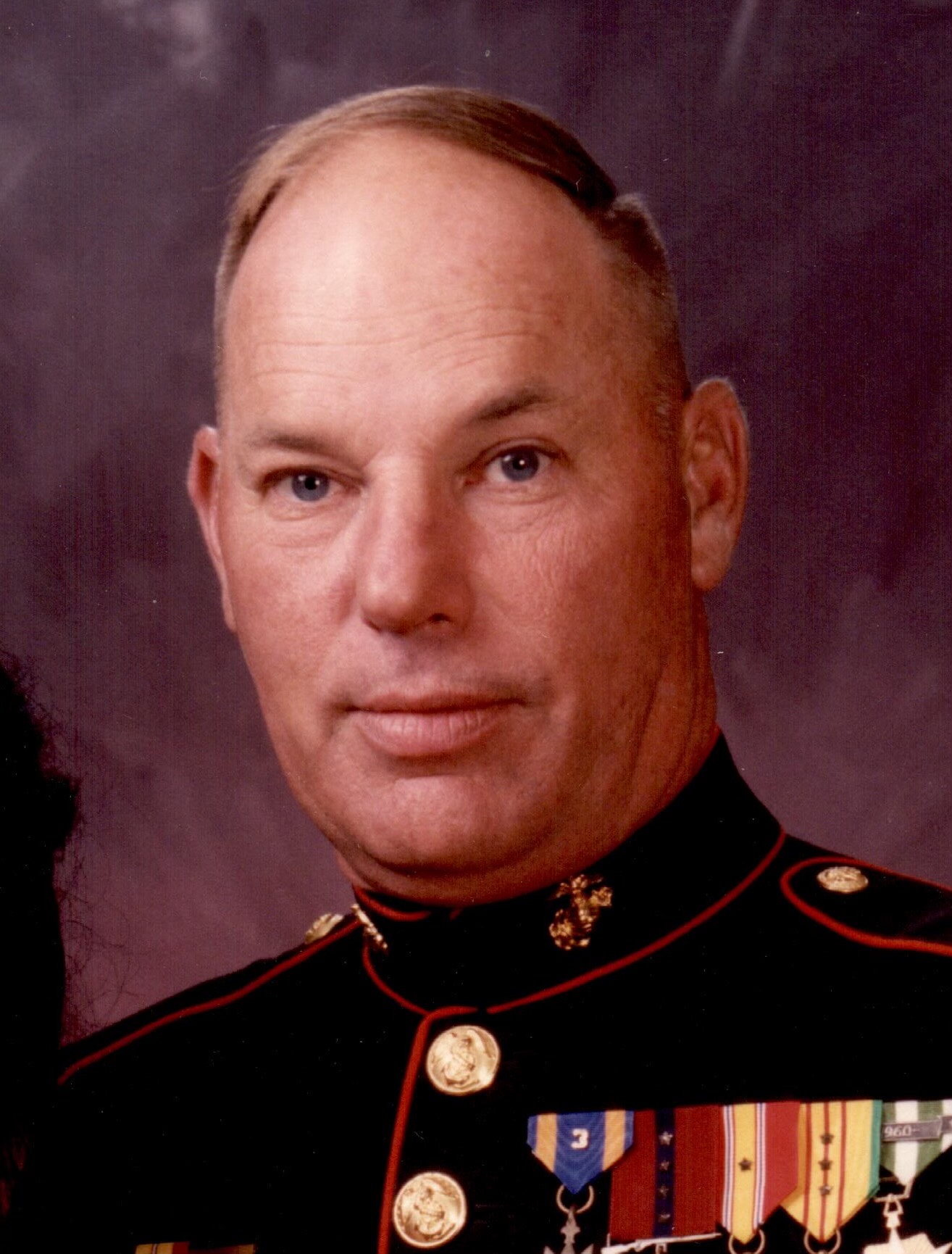 September 9, 1943 ~ January 13, 2023
Sergeant Major Gilmore E. Richter III, a proud veteran of the United States Marine Corps, made his journey to the Heavenly Father on Friday, January 13, 2023 at the age of 79.
Rick, as he was affectionately known by many, was born September 9, 1943 in Evansville, Indiana to the late Gilmore Edward Richter II & Norma Richter and attended Central High School before enlisting in the Marine Corps in 1962 and completing recruit training at MCRD Parris Island, South Carolina. He then completed Aviation Training to crew C-119 Aircraft, and in 1965 as a young Lance Corporal, he saw action in the Republic of Vietnam as a Crew Chief and Gunner on UH-34 Helicopter. Upon returning to the states in 1966, Corporal Richter returned to duties on C-119s.
Throughout the rest of his 30 year career, Rick continued to be promoted through the ranks and performed key duties as NCO/Senior NCO of Marines, including duties on the drill field as Drill Instructor, Platoon Commander, Chief Drill Instructor at MCRD San Diego; Gunnery Sergeant at Okinawa and Camp Pendleton; 1st Sergeant at the School of Infantry, Reserve Support Unit, and HQ Company H&H Battalion at Camp Pendleton. Promoted to Sergeant Major in 1985, and for the remaining eight years of his active duty career, he served as senior enlisted Marine at 1st Recruit Training Battalion, H&S Battalion, at MCRD San Diego; 7th Communications Battalion at Okinawa, Japan; 4th Marine Regiment at Camp Schwab, Okinawa; in 1991, he transferred to El Toro, California where he served as 3rd Marine Aircraft Wing Rear (Operation DESERT SHIELD), Marine Air Control Group 38, and finally, SgtMaj of 3rd Marine Aircraft Wing. SgtMaj Richter completed his nearly 31 years of dedicated service to the United States Marine Corps in February 1993.
Rick's awards and decorations include the Expert Rifle and Pistol qualifications, Meritorious Service Medal, Air Medal (3 Stars), Combat Action Ribbon, Navy/Marine Corps Presidential Unit Citation, Navy Unit Commendation, Navy Meritorious Unit Commendation, Good Conduct Medal (11th Award), National Defense Service Medal (1 Star), Navy Sea Service Deployment, Republic of Vietnam Service Medal (3 Stars), Southwest Asia Medal, and Aircrew Badge.
After military retirement, Rick continued to utilize his superior leadership and golf skills with service as a Marine Corps Junior Reserve Officer Training Corps Instructor and Girls High School Golf Team Coach at Murrieta Valley High School, retiring with 18 years as an Public School educator in 2011.
For most of his life, if Rick was not on-duty or spending quality time with his wife Teri, he was on the golf course. An avid golfer since high school, he won many tournaments throughout his life, including the All-Service Championship for the Marine Corps and Pendleton Memorial Golf Association Senior Champion in 2001 and 2002.
He was predeceased by his parents Gilmore E. Richter II and Norma Samp; he was also preceded in death by his brother Doug and sister Janie.
He is survived by his wife of 34 years, Teri Richter; two sons, Jeffri Richter and Timothy Richter (Roxanne); two step-sons, Ryan Ocampo (Michelle) and Ricky Ocampo (Ashley Reese); five grandchildren, Ashlee, Austin, Mykaela, Mykenzie and Emma; and great-grandchild, Paislee; Sisters Courtney Sue and Jenny, and nieces and nephews in Evansville, Indiana.
A Celebration of Life will be held on the 3rd of February 2023 at 10:00am at England Family Mortuary in Temecula, CA, followed by 12:30pm funeral service, with full military honors, at Riverside National Cemetery.
All are invited to join the family for a 3pm reception luncheon following the completion of the funeral services at (location to be determined). Additionally, an 11:30am refreshment option will also be available at (location to be determined) for those who attend the Celebration of Life but do not wish to participate in the funeral services.
In lieu of flowers (Rick was not a fan of flowers!), please consider a donation in memory of Gilmore E. Richter III to a local organization that contributes to the development of our community's youth, such as the Young Marines – Temecula Valley Unit (https://youngmarines.salsalabs.org/DonateButton/index.html) or SCGA Junior Golf Foundation (https://secure.scgajunior.org/donate).
Funeral arrangements were entrusted to England Family Mortuary, Inc.
Memories Timeline
Guestbook
---