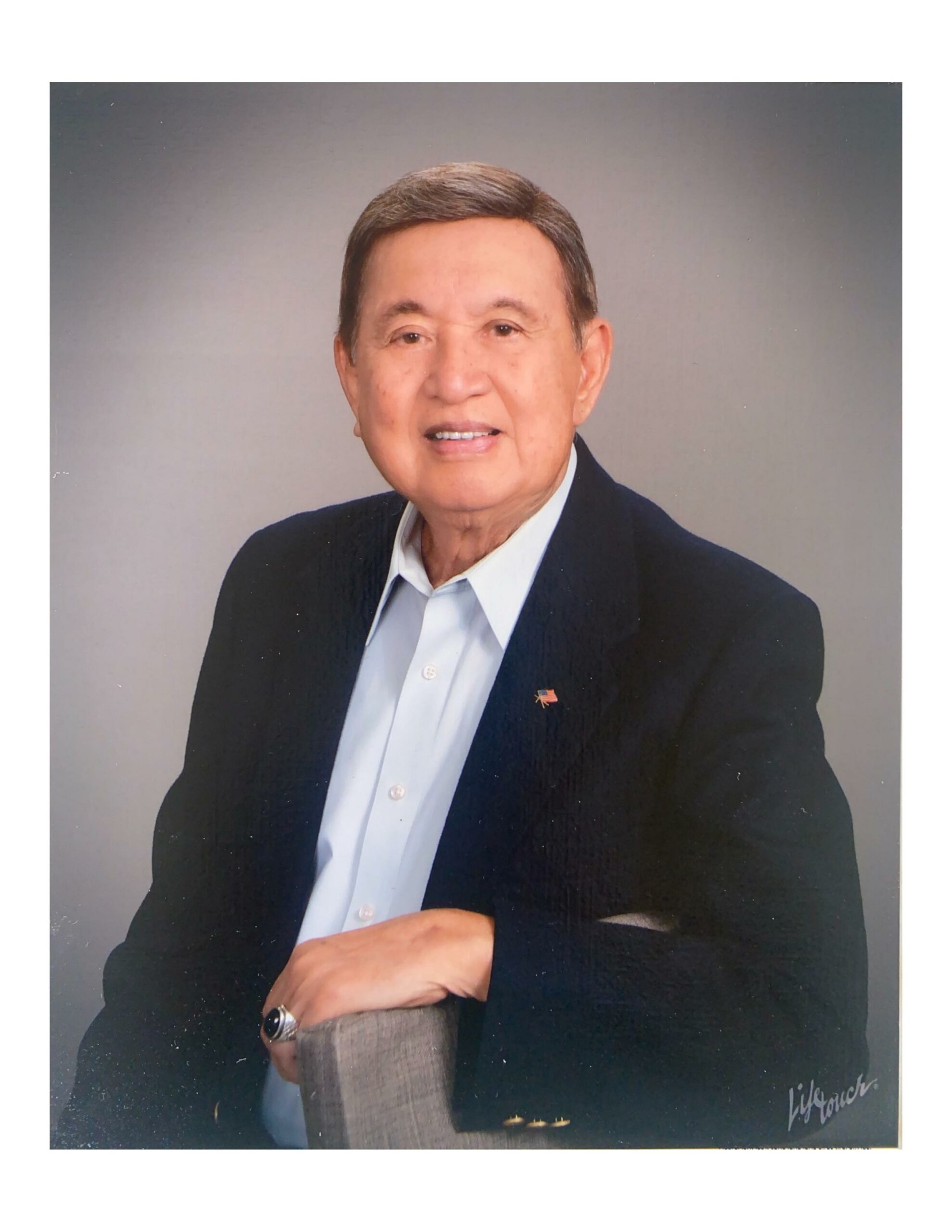 March 2, 1930 ~ February 17, 2023
Pedro (Pete) Diaz, of Temecula, CA was born on March 2, 1930, in Baliuag Bulacan, Philippines; to Jose and Margarita Diaz. He was the 6th of 8 children. He was married to Shirley C. Diaz for 66 years, who preceded him in death 16 months ago. He is survived by his 5 children: Howard Diaz (wife Michelle), Jonell Hanley (husband Rick), Carole Gonzales (husband Neil), Jennifer D'Alessio (husband Keith), and Peter Diaz (wife Maricar). Grandfather of 10: Cheryl, Ryan, Charlie, Andrew, Brandon, Casey, Zachary, Bradford, Patrick, and Breanne, as well as 8 great-grandchildren.
From a young age, he showed the depth of character and determination that would serve him well in the future. As a young adolescent during the Japanese occupation, at great risk, he hid WW2 war supplies on the family farm for his older brothers who fought in the resistance movement.  He was a ROTC cadet leader.  Unwilling to see his friends suffer, he would sneak provisions from the farm to help locals that were unable to meet their nutritional needs on their own. When the war was over, he returned to his school and eventually was accepted into a civil engineering program. Unfortunately, the disruption of his education during the war made pursuing an engineering degree difficult. Later, he became a member of a survey crew doing civil works surveys in several  islands of the Philippines. He eventually returned to college and earned a degree in Political Science at the Far Eastern University. Manila, Philippines.
His determination, diligence, and perseverance brought him his next opportunity as a pioneer at United Laboratories, Inc. He started as an assistant salesman. This led to successive promotions and more responsibilities from 1955 through 1987. With vigor & dynamism, he proved to be a vital contributor to the success of United Laboratories.  He rose through the ranks, ultimately culminating in his promotion to Senior Executive Vice President of Sales, Marketing, and Operations at United Laboratories (UNILAB). He was a game-changer.  Ultimately, he was also tasked to spearhead the land development and real estate division of UNILAB Inc, Greenfield Development Corporation.  Today, it is known as Greenfield City.
Upon his retirement, he and his wife emigrated to Seattle, Washington, to join their children.  In 2004 , they relocated to Temecula, California, to enjoy the warmer weather.   Pete and Shirley were avid travelers,  enjoyed visiting family and friends, and were quite active, devout servants in both Catholic Communities of Mary Queen of Peace (Issaquah, WA) and St. Catherine of Alexandria (Temecula, CA). Pete was a loving, devoted, kind, family man. Papa Pete as he was called by his grandchildren, was an amazing, thoughtful, playful, fun grampa who was endearing to each and everyone of his family members.
Pete is known to be sociable, jovial, generous, charitable, kind, dependable, industrious, a great protector and forever loving to his family and friends.  A big part of his life was being a hunter, being a marksman, golfer, bowler, and enjoyed gardening. He will always be remembered as a funny man comic who delivered perfect punchlines.  He will be loved and missed immensely by many.  Finally, he joined our Creator on February 17, 2023, and is now reunited with his beloved wife, Shirley for all eternity.  May he rest in God's peace.
Calling hours will be held at England Family Mortuary, 27135 Madison Avenue, Temecula on Wednesday March 1 and Thursday, March 2, 2023 from 3:00 pm to 7:00 pm.  On Friday, March 3, 2023,  a Catholic mass at 12:00 noon will be held at St. Catherine of Alexandria Catholic Church, 41875 C Street in Temecula, followed by his interment at Temecula Cemetery across the street.
Funeral arrangements were entrusted to England Family Mortuary, Inc.
Services
Memories Timeline
Guestbook
Sign the Guestbook, Light a Candle